FP's Workplace Law Forecast 2023
It's never easy to make accurate predictions about what we might expect to see in the workplace in the coming year. After all:
At the start of 2020, no one could have predicted COVID-19.
None of us had heard the phrase "the Great Resignation" in January 2021.
And a year ago at this time, "quiet quitting" wasn't on anyone's radar.
Despite the ever-present uncertainty, we asked our firm's thought leaders to develop their best predictions for 2022 during the first half of this past year, which you might remember from our FP Forecast series that ran starting in January. And as you can see on the next pages, they did a pretty good job anticipating what the year would bring. The report you're about to read includes a recap of the predictions they made about 2022 along with a report card on how they fared, and I think you'll agree that our forecast was accurate and helpful for employers. 
And now we're at it again. We asked these same attorneys to take it a step further and look at what 2023 would hold for employers across many of our practice areas and industries.
As you flip through the pages, you'll see some common themes. The economic uncertainty we're experiencing won't be going away anytime soon, for example, and it will have ripple effects across your workplace. And the indelible mark that the pandemic left on the workplace is still present, too, and will continue to have some unexpected consequences.
We hope you enjoy thumbing through this report and it helps you set the stage for a successful 2023. Our attorneys will continue to be forward-thinking in an effort to be a helpful resource as you navigate the coming year and beyond.
Click here to access FP's Workplace Law Forecast 2023.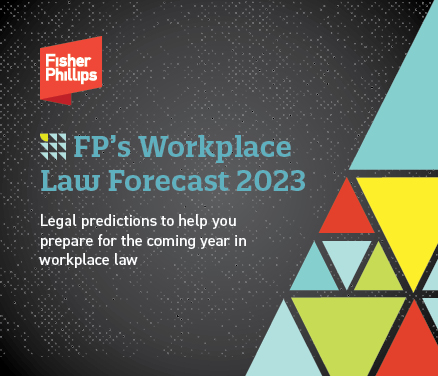 Service Focus
Industry Focus
Trending