Diversity News and Events
Fisher Phillips Named Among the "Best Places to Work for LGBTQ Equality"
Firm Earns a Perfect Score in the Corporate Equality Index from the Human Rights Campaign Foundation
Fisher Phillips, one of the country's preeminent labor and employment law firms representing employers, is proud to announce that it has earned the designation as a "Best Place to Work for LGBTQ Equality" after achieving a perfect 100% score on the 2021 Corporate Equality Index (CEI). The CEI is the nation's foremost benchmarking survey and report measuring corporate policies and practices related to LGBTQ workplace equality as conducted by the Human Rights Campaign Foundation (HRCF).
"It is an honor to be recognized for our commitment to LGBTQ equality and inclusion," said Roger Quillen, Chairman and Managing Partner of Fisher Phillips. "We continue to recruit, hire, develop, retain, and promote the best attorneys regardless of ethnicity, race, gender, religion, sexual orientation, disability, backgrounds, and viewpoints. As an employment firm, we operate under the belief that diversity and inclusion strengthens our ability to serve clients with an assortment of viewpoints and critical insights about the legal issues they are facing in the workplace."
Fisher Philips takes great pride in being among the 767 major U.S. businesses that earned top marks this year after providing crucial protections to millions of workers. The firm has made a point of implementing policies, practices and benefits pertinent to lesbian, gay, bisexual, transgender and queer employees. The firm continues to advance non-discrimination workplace protections for gender, gender identity or expression, and sexual orientation. The firm also ensures both domestic partner benefits and transgender-inclusive health care benefits. In addition, Fisher Phillips makes it a point to support national LGBTQ+ events such as Lavender Law as a show of support for continuing the commitment to workplace equality both in the legal profession and beyond.
"From the previously unimaginable impact of the COVID-19 pandemic, to a long overdue reckoning with racial injustice, 2020 was an unprecedented year. Yet, many businesses across the nation stepped up and continued to prioritize and champion LGBTQ equality," said Alphonso David, Human Rights Campaign President. "This year has shown us that tools like the CEI are crucial in the work to increase equity and inclusion in the workplace, but also that companies must breathe life into these policies and practices in real and tangible ways. Thank you to the companies that understand protecting their LGBTQ employees and consumers from discrimination is not just the right thing to do—but the best business decision."
Companies rated in the CEI include Fortune magazine's 500 largest publicly traded businesses, American Lawyer magazine's top 200 revenue-grossing law firms (AmLaw 200), and hundreds of publicly and privately held mid- to large-sized businesses.
The 2021 Corporate Equality Index report is available here.
Fisher Phillips Achieves 2020 WILEF Gold Standard Certification
Fisher Phillips, one of the country's preeminent labor and employment law firms representing employers, is pleased to announce the firm has been named a 2020 Gold Standard Certification recipient from The Women in Law Empowerment Forum (WILEF).
WILEF Certification focuses on leadership roles achieved by women at law firms with 300 or more practicing lawyers in the U.S. Firms achieve certification if they successfully demonstrate that women represent a meaningful percentage of their highest leadership positions, of their governance and compensation committees, and that there be meaningful diversity among their women equity partners.
For 2020, US Gold Standard Certification, a meaningful percentage means that the firm satisfies the mandatory criterion that 20% of equity partners or 33% of the attorneys becoming equity partners during the past twelve months are women. The firm must also satisfy at least three of the following five criteria:
15% of the firm and US branch office heads are women
20% of the firm's primary governance committee are women
20% of the firm's compensation committee or its equivalent are women
15% of the top half of the firm's equity partners in terms of compensation are women
10% of women equity partners are women of color, or 4% of women equity partners are LGBT
Fisher Phillips met all six criteria for 2020 Gold Standard Certification.
"Fisher Phillips' long-standing commitment to identifying and appointing diverse candidates for leadership positions across the firm is working and we are grateful that WILEF has recognized these efforts," said Christine Howard, partner and member of Fisher Phillips' Management Committee. "Over 65% of the firm's practice group and industry teams are chaired or co-chaired by women, our management and compensation committee is made up of 33% women, and among our executive leadership team, more than half of our leaders are diverse. Additionally, over 18% of our firm's offices are managed or co-managed by women, further demonstrating our dedication to advancing diverse candidates into leadership positions across the firm."
More information about WILEF and Gold Standard Certification can be found here.
Fisher Phillips was the Proud Sponsor of The Women, Diversity & Law Summit
Fisher Phillips was proud to sponsor The Women, Diversity & Law Summit: Atlanta where our attorney Crystal Enekwa spoke about furthering diversity in the legal industry. The Women, Diversity & Law Summit explores how to create lasting change for women and minorities in the legal profession with topics such as: advocating for yourself and others, the best techniques to deal with discrimination and unconscious bias, actionable ways to increase diversity in leadership roles, strategies to enhance your career, and how to best utilize sponsors and mentors.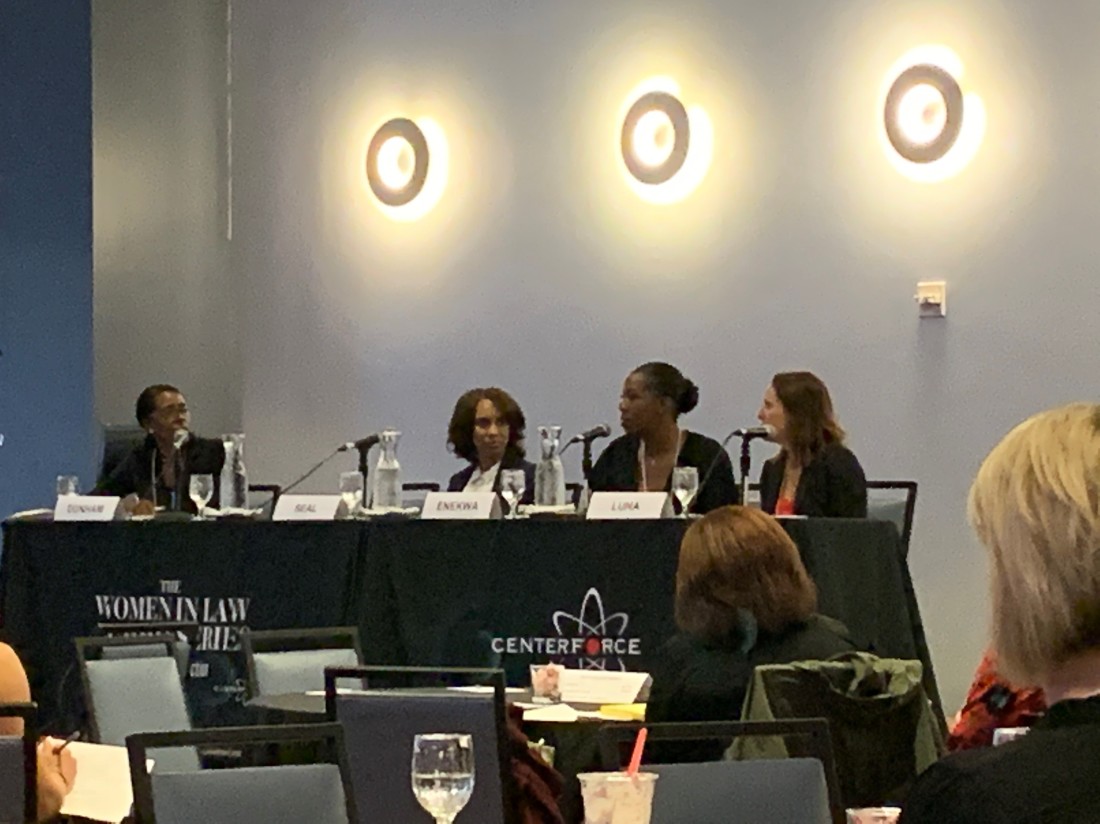 Fisher Phillips Columbus Office Hosts Midwest Chapter of the National Black Law Students Association
The Columbus office hosted a meet and greet on Friday for the Midwest Chapter of the National Black Law Students Association. Attached is a picture of the Columbus office and the Board members from NBLSA that attended.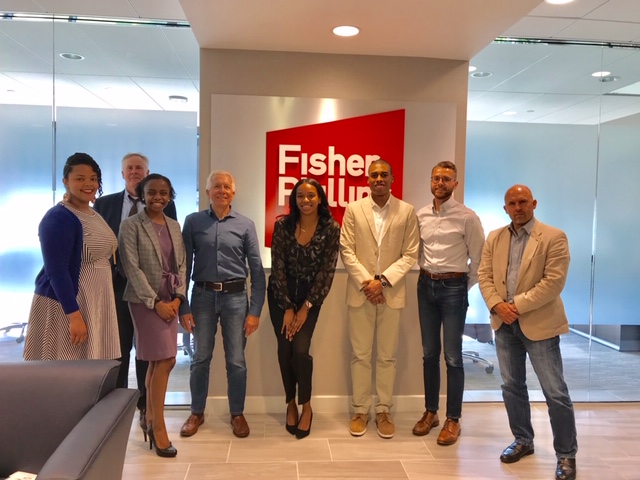 Fisher Phillips Partner Annie Lau Selected as Leadership Council on Legal Diversity 2018 Fellow
Fisher Phillips announced that Partner Annie Lau has been selected to serve as a member of the 2018 Fellows Program for the Leadership Council on Legal Diversity (LCLD). Annie joins a class of 293 experienced attorneys from around the United States who are committed to fostering diversity in the legal profession.
"Annie excels in promoting leadership and inclusiveness in our office and across the firm, and she is the perfect fit for this distinguished group," said Jason Geller, managing partner of the firm's San Francisco office. "This honor is well deserved and we are proud of her accomplishments."
Founded in 2009, LCLD is a national organization of chief legal officers and law firm managing partners who are committed to increasing diversity and inclusivity in the legal profession. The LCLD Fellows Program is a highly structured initiative built to increase diversity at the leadership levels of the nation's top law firms and corporate legal departments. Since its launch in 2011, the Fellows Program has trained more than a thousand mid-career attorneys, helping identify, train and advance the next generation of leaders in the legal profession.
A partner in the firm's San Francisco office, Annie defends employers in all aspects of labor and employment law, with an emphasis in single-plaintiff discrimination and harassment litigation claims. She represents construction firms and manufacturing and retail companies in wage and hour, disability and leave management matters, as well as layoff claims related to the Worker Adjustment and Retraining Notification (WARN) Act. Prior to joining the San Francisco office in 2015, Annie worked in the firm's Dallas and Houston offices, and she is a member of the Dallas Bar Association and the Texas Bar Association. She worked as a human resources manager for Aramark Corp. before becoming an attorney.
Annie earned her J.D. from Southern Methodist University School of Law (2008) and her B.S. from Cornell University (2003).
Program Helps Law Firms See Progress in Gender Diversity—But is it Enough?
Fisher Phillips is honored to be recognized as a U.S. firm that is implementing best practices in retaining and promoting women lawyers and fostering environments committed to achieving that success.
In the article, "Program Helps Law Firms See Progress in Gender Diversity—But is it Enough?", the ABA Journal reported on Working Mother Media's Best Law Firms for Women initiative in which Fisher Phillips was ranked 5th in its grouping.
"One of the things I've been struck by in my work on the initiative this year is the value law firms attach to being involved," says Karen Kaplowitz, a former trial lawyer and special adviser to the Best Law Firms initiative. "They've told us how important it is to the law firms that they get on this list and that they stay on this list. It has real value to them in their diversity and inclusion efforts—including recruiting law students and laterals."
The Best Law Firms For Female Attorneys
Fisher Phillips has been recognized for its strong dedication to the support and advancement of women by inclusion on both Working Mother magazine's 2017 list of the 50 "Best Law Firms for Women" and Law360's "Best Law Firms for Female Attorneys," which both recognize U.S. firms implementing best practices in retaining and promoting women lawyers and fostering environments committed to achieving that success.
Law360 grouped firms based on U.S. attorney headcount in order to evaluate them with similar-sized peers. They then excluded any firm that had below-average female representation at even a single level of the firm, and ranked the rest based on their percentage of female attorneys both at the nonpartner and partner level.
Fisher Phillips ranked 5th in its grouping, with an aggregate workforce that is over 40 percent female.
Georgia Association of Black Women Attorney's on Gender Equity in the Workplace
Fisher Phillips hosted a luncheon March 30, 2017 in the Atlanta office with the Georgia Association of Black Women Attorney's on Gender Equity in the Workplace. The panelists included our own Mairen Kelly, Keisha Hudson, Chair and Lead Instructor of Paralegal Studies at Atlanta Technical College, and Professor Greg Lewis, PhD, Georgia State University, Andrew Young School of Policy Studies. The moderator was Adwoa Ghartey-Tagoe Seymour of Cox Enterprises, Inc. The discussion focused on the legal and the dynamic issues related to gender equity at places of employment, what "gender equity" means in the current climate, the protections available to the employer and the employee, the history and current trends of gender equity, and whether gender equity is only about equal pay and promotion. Over 30 individuals attended including the current president of GABWA, Ms. Tori Silas, and the incoming president for the Georgia Association for Women Lawyers ("GAWL"), Ms. Michelle West. GABWA offered CLE credit for this event as well.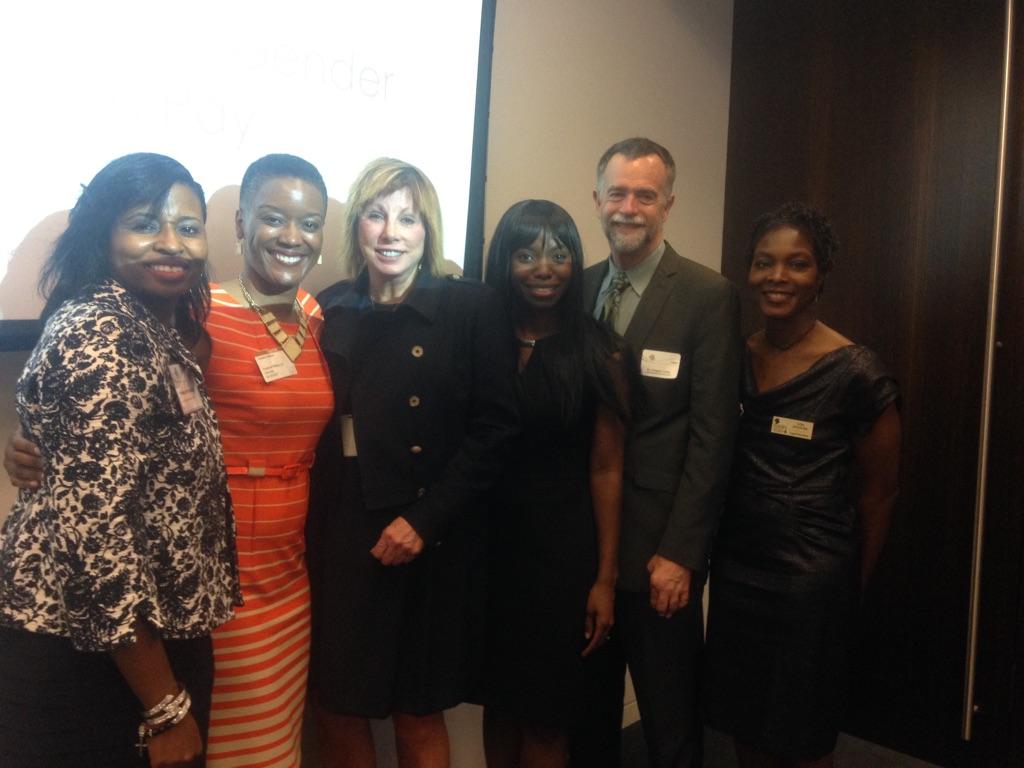 Fisher Phillips Honors JoAnne Epps with Business Leadership in Diversity Award
Temple University's Executive Vice President and Provost JoAnne Epps was recognized for her commitment to law education, student success, diversity and social justice. Fisher Phillips Partner Rick Grimaldi presented the award at a reception hosted by the firm on December 12, 2016 in New York City during Pennsylvania Society Weekend.