Diversity, Equity & Inclusion
Our firm's diversity is a big part of our strength.
Organizations are better when diversity, equity, and inclusion are at the very core of who they are. And we're no different. We're proud of the firm we are becoming and believe we owe much of our recent success to ensuring we are fostering an inclusive environment for the wide spectrum of voices represented by our diverse workforce.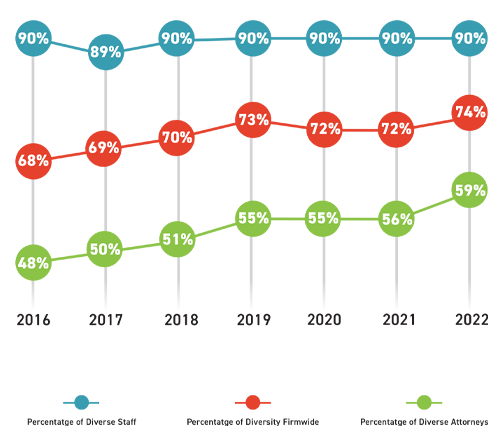 But our commitment to these principles isn't just a box to be checked to make us feel satisfied with where we are now. It's an ongoing process, where we try to be better today than we were yesterday – and aim to be better still tomorrow. We know we're better today because of some of the affirmative steps we've taken over the past several years, including appointing our first Chief Diversity Officer and formalizing improved mentor and sponsor opportunities for our diverse attorneys. And our goal of being better tomorrow isn't just aspirational. Some concrete steps we've taken include:
Achieved Mansfield Rule 5.0 Plus Certification for successfully broadening our pipeline of diverse lawyers and surpassing 30% diverse lawyers in leadership roles.
Supporting the California Pay Equity Pledge as it applies it to gender, race, and ethnicity.
Joining the newly established national Law Firm Antiracism Alliance, which is helping various organizations collaborate to create large-scale, coordinated pro bono projects to address systemic racism.
Developing an internal policy ensuring we consider diverse candidates for leadership role at the firm, and
Holding the Management Committee and partners accountable for advancing diversity within the firm.