Thank you for partnering with Fisher Phillips. For your convenience, we accept echeck and credit card payments.
For questions regarding payments, please call 404.231.1400
To pay online with a credit card or echeck, please click here.
Fields in yellow are required, all others are optional.  We accept Visa, Mastercard, American Express and Discover. You will need your invoice number and client matter number, which are located in the upper right corner of your bill.

To pay multiple client matter numbers, please click here or click "I don't know my invoice/client number" if you selected the top link.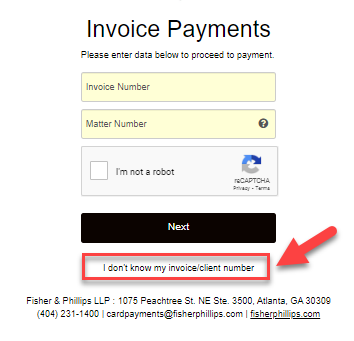 To download a copy of our W9, please click here.