Dear Client,
Thank you for your continued confidence in our firm. Toward that end, we are writing to update you concerning the U.S. Department of Labor's Persuader Rule, which is presently set to become effective on July 1, 2016. If you have followed our earlier publications and communications on this subject, you already know that the new rule is the subject of criticism and multiple lawsuits because, among other things, it threatens the sanctity of the attorney-client relationship. As worded, it compels the public reporting of otherwise confidential attorney-client information by both employers and their law firms.
As we approach July 1, the rule remains under attack on several fronts, both in the courts and before Congress. It remains to be seen how successful any of these challenges ultimately will be, but we are optimistic that one or more of the lawsuits opposing the rule will prevail and that one or more courts will enjoin it before the effective date. The purpose of this correspondence is, as we wait for all of this to play out, to make you aware of how we will proceed in the event rule is not enjoined before July 1.
Beginning with the announcement of this proposed rule five years ago, our firm has worked closely with many of the other largest and best known labor and employment law firms to review, consider and then oppose DOL's changes to the rule. These law firms - comprising over 4,000 U.S. labor and employment lawyers - have collectively put our clients' first to cooperate in a massive effort to carefully consider (i) how the rule would affect the employer and legal community; and (ii) how, if necessary, to protect our clients' interests. We also have worked with various associations that have joined in the effort.
A small but important example of the firms' shared efforts was to educate and engage the American Bar Association in opposition to the rule. The ABA continues to play an active role, decrying DOL's attempt to interfere with the attorney-client relationship.
Even as our cooperating firms have fought to stop and/or streamline the rule, we have also planned for the possibility of practicing under a new definition of reportable persuader activity. One option our firm considered was to limit our future labor relations advice and services to avoid services that DOL now considers to be reportable. That would have meant continuing to represent our clients in court and administrative proceedings, as well as at the bargaining table, but refraining from all strategic advice as well as assistance in ensuring not only lawful but effective communications by our clients to their employees on union matters. That approach might have shielded us and our clients from some or all of the new rule's reporting requirements, but the negative impact on employer clients would have been far too great.
America's employers would be significantly disadvantaged if more than 4,000 of the most trusted advisors in the field were to decide to withhold all strategic and persuasive legal advice. There are countless examples, but consider these:
In the event of a union organizing campaign, an employer would be ill-served if a lawyer restricted herself to training supervisors on the legal limits on their behavior but refused to advise them – with the benefit of our experience – on how to communicate lawfully and most effectively the employer's side of why a union might not be in their interests.
In the context of collective bargaining, an employer would be ill-served if a lawyer restricted himself to communicating his client's positions at the bargaining table, but refused to draft for client consideration employer communications to persuade workers that the tentative contract reached at the table is a good one, that the contract should be ratified, and why it would be mutually destructive for them to reject the contract and go on strike.
In the context of employment practices, policies and handbooks, an employer would be ill-served if a lawyer restricted her work to reviewing an employer's proposals for legal sufficiency but refrained from recommending "employee-friendly" practices and policies because they might be deemed to have an object of persuading employees that they do not need outside representation.
Rather than limiting our services for the purpose of avoiding the new reporting requirements - as some other firms have said they will do – we remain committed to a robust approach to practicing labor law. We will carefully monitor the litigation challenging the rule and keep you informed. In the interim, you can be sure that we will continue to perform our traditional, high-caliber "indirect persuader" services which do not entail direct contact with employees.
Just as we will not redefine our labor law practice to our clients' detriment in light of the rule while its validity is litigated in the courts, neither will we concede that we or our clients should surrender to DOL's view that they can compel this new level of reporting. There is a serious clash between the centuries old law governing the attorney-client relationship and the new requirements of DOL's rule. This conflict is so serious and far reaching that it will likely make it to the highest courts in the land.
In the meantime, we will defend our clients' interests and refuse to report, unless the clients give us their express and informed consent to do so. Furthermore, it is our carefully considered recommendation that clients should not consent unless and until the legal challenges have been definitively resolved. The choice is yours. The pending lawsuits against the rule articulate compelling arguments why it is invalid and should be enjoined. We encourage our clients to embrace those arguments and defend the sanctity of the attorney-client relationship by not consenting to disclosure until all of the arguments have been heard and decided in the high courts.
The relationship between our firm and our clients is paramount to us. We will always act ethically and professionally in the manner that our clients expect and deserve. This includes providing legal services as before. It also means we will report if you consent and will not report if you do not consent. The litigation over the new rule is far from over. Stay tuned, and we will keep you apprised of any further developments.
Sincerely,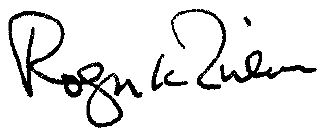 Roger K. Quillen
Chairman & Managing Partner